On Sunday 24th of September 2023 at 7:00pm (Melbourne time), I will run an online master class workshop (via Zoom) covering two practice exams of the Pharmacy Australia Intern Oral Exam. I am the founder of MemoriseMedicine.com and the author of the Amazon best seller 'Passing The Pharmacy Australia Intern Oral Exam: The Easy way' and 'Passing The Pharmacy Australia Intern Written Exam: The Easy way'.
The master class will cover all 3 parts of the intern oral exam and will discuss the systems you should implement to help you pass the upcoming pharmacy board exam. If you need more practice material, please refer to 'Passing The Pharmacy Australia Intern Oral Exam: The Easy way'
The master class will contain two brand-new practice exams that are not featured in my book (or any previous workshop). Questions will be a mixture of original questions created by me and questions based on the previous year's exam. 
What will it cost?
Master Class eTicket: $39.99
The workshop eTicket will only be on sale until Friday 22nd of September 2023 11:59pm. Upon payment, you will get a "Your order is now complete" email and the link to join. Please make sure you have the latest version of Zoom downloaded. 

Master Class Late eTicket: $49.99
As we need to organise the participants, we will apply a late fee of $10 to people that miss the workshop eTicket deadline. This will be on sale from Saturday 23rd of September 12:00am until just before the start of the workshop – Sunday 24th of September 6:00pm. Late eTickets may ask questions and participate in any discussion but they may not have the chance to actively participate in any roleplaying.
Sales help to keep MemoriseMedicine.com free.
Don't miss out! Last year, we had multiple interns messaging us after the cut-off time. Please save this event on your calendar. No reminders will be sent out and we won't be running another workshop this year.
I look forward to seeing you there,
Bon
---
Start Time & End Time
The workshop will open at 6:30pm (Melbourne time). This is to give people time to login. The master class will begin at 7:00pm sharp. The official pharmacy board intern oral exam goes for 35mins. This master class is expected to go for 1.5hr to 2 hours.
Registration Process
Please make sure your Registrant name and email match your Zoom account. Each registrant will have a link unique to their details. And can only view the master class on one device. Non-matching names and multiple devices will be automatically kicked out.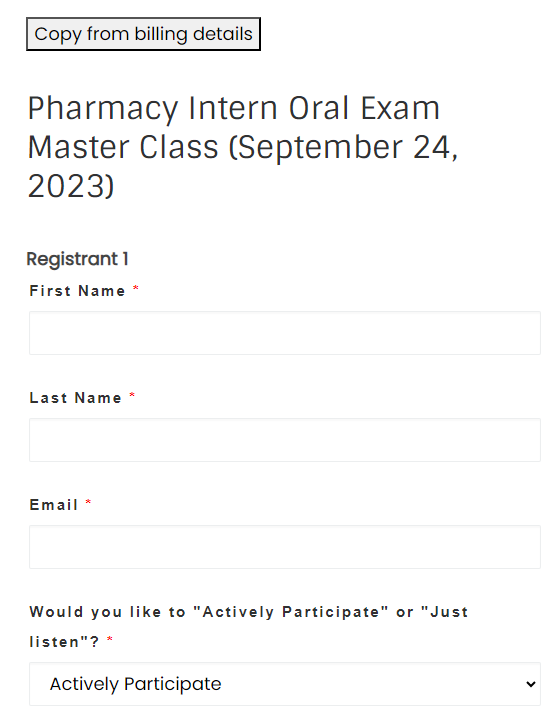 Please email exam@memorisemedicine.com if you do not receive the "Your order is now complete"  email and Join Link within a few minutes of purchase, or if you have any other problems.
Format Of The Online Master Class Workshop:
As the workshop will be run live, there may be slight variations to this format.
Each part will start with having one intern attempting to answer the problem. At the end a quick discussion may occur. E.g. Another intern may be asked if there's anything else they would add.
Since there will be limited speaking roles, you will be asked to select if you want to "actively participate" or "just listen" when you buy your ticket. Those who select "just listen" will not be called upon to answer any questions but they may still volunteer to do so.
Part A: Primary Healthcare (10 mins)
There will be one OTC question. You will be given 10 mins to explain how you would treat this patient.
Part B: Legal and Ethical Practice (5 mins)
There will be one legal or ethical question. You'll have 5 minutes to explain the situation and what you would do.
Part C: Problem Solving & Communication (20 mins)
There will be one problem solving and communication question. This will be conducted as a role play. You will be the pharmacist and the host will be the patient and doctor. You will be given 20 mins. If the problem is not solved after 20 mins, another intern will be selected. They will have 5 mins to ask more questions to solve the problem. This will be repeated until the problem is solved.
Digital Item
This is a digital item.  ALL digital item(s) sales are final. No refunds, returns, or exchanges are allowed.
Disclaimer
The medical information accessible via this workshop is general only, and is not specific to any person or participant. A participant must consult with a suitably qualified and registered health practitioner if they have questions or queries relating to any information accessible via this workshop. While the host sources the information accessible via this workshop from reputable sources, and conducts reviews of that information from time-to-time, the host does not warrant that such information is accurate or up-to-date. The host does not guarantee a participant will achieve any particular outcomes or academic grades.
Reviews written may be used as part of marketing. The host may take screenshots and record this workshop.
Affiliate Disclosure: As an Amazon Associate I earn from qualifying purchases.